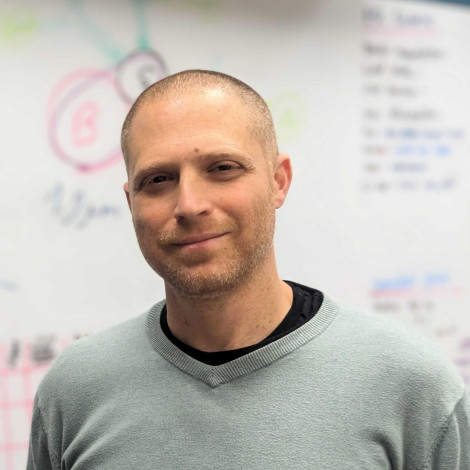 Prof. Eitan Okun
דוא"ל
eitan.okun@biu.ac.il
משרד
Gonda (Goldschmidt) Brain Research Building 901, 3rd floor, Room 312
Research

מחקר

Neuroimmunology is the most rapidly advancing field of research in the study of brain diseases and particularly in Alzheimer's disease. We are studying how immune cells interact with the brain during Aging, in Alzheimer's disease and in individuals with Down syndrome. We also study the mechanistic link between pregnancy with a Down syndrome fetus and the elevated risk of maternal cognitive decline.
Courses

קורסים

80-202-10 / 80-202-01  Biochemistry B

80-3331-1   Biological mechanisms of learning and memory

80978-01  Neurodegenerative diseases of the elderly

80902-01 Seminar : advanced students

80453-01 Seminar : B.Sc. students
Publications

פרסומים

 

Neural correlates of subjective cognitive decline in adults at high risk for Alzheimer's disease. Liat Ben-Ami, Ramit Ravona-Springer, Tsarfaty G, Raizman R, Shumacher A, Sharvit-Ginon I, Greenbaum L, Bendlin BB, Okun E, Heymann A, Schnaider Beeri M, Livny A. Front Aging Neurosci. 2023 Feb 1;15:1067196.

 

Early diagnosis and treatment of Alzheimer's disease by targeting toxic soluble Aβ oligomers. Maram Habashi, Suresh Vutla, Kuldeep Tripathi, Sudipta Senapati, Pradeep S Chauhan, Haviv-Chesner A, Michal Richman, Samia-Ait Mohand, Véronique Dumulon-Perreault, Ramakotaiah Mulamreddy, Okun E, Jordan H Chill, Guérin B, Lubell WD and Rahimipour S. PNAS. 2022 Dec 6;119(49).

 

 Sleeve Gastrectomy Reduces Glycemia but Does Not Affect Cognitive Impairment in Lean 5xFAD Mice. Samuel I, Ben-Haroush Schyr R, Arad Y, Attali T, Azulai S, Bergel M, Halfon A, Hefetz L, Hirsch T, Israeli H, Lax N, Nitzan K, Sender D, Sweetat S, Okun E, Rosenmann H, Ben-Zvi D. Front Neurosci. 2022 Aug 11;16:937663.

 

HCAR1-Mediated L-Lactate Signaling Suppresses Microglial Phagocytosis. Nicola R, Madar R, Okun E. Neuromolecular Med. 2022 Apr 11. doi: 10.1007/s12017-022-08710-5.

 

 COVID-19 Vaccination of Individuals with Down Syndrome-Data from the Trisomy 21 Research Society Survey on Safety, Efficacy, and Factors Associated with the Decision to Be Vaccinated. Hüls A, Feany PT, Zisman SI, Costa ACS, Dierssen M, Balogh R, Bargagna S, Baumer NT, Brandão AC, Carfi A, Chicoine BA, Ghosh S, Lakhanpaul M, Levin J, Lunsky Y, Manso C, Okun E, Real de Asua D, Rebillat AS, Rohrer TR, Sgandurra G, Valentini D, Sherman SL, Strydom A, On Behalf Of The Trisomy Research Society Covid-Initiative. Vaccines (Basel). 2022 Mar 29;10(4):530.

 

 Integrative epigenomic and transcriptomic analyses reveal metabolic switching by intermittent fasting in brain. Ng GY, Sheng DPLK, Bae HG, Kang SW, Fann DY, Park J, Kim J, Alli-Shaik A, Lee J, Kim E, Park S, Han JW, Karamyan V, Okun E, Dheen T, Hande MP, Vemuganti R, Mallilankaraman K, Lim LHK, Kennedy BK, Drummond GR, Sobey CG, Gunaratne J, Mattson MP, Foo RS, Jo DG, Arumugam TV. Geroscience. 2022 Mar 31.

 

 Physiology and pharmacology of amyloid precursor protein. Cho Y, Bae HG, Okun E, Arumugam TV, Jo DG. Pharmacol Ther. 2022 Feb 1;235:108122.

 

 Induction of an effective anti-Amyloid-β humoral response in aged mice. Illouz T, Madar R, Hirsh T, Biragyn A and Okun E. Vaccine, July 2021, Aug 9;39(34):4817-4829.

 

Immune Dysregulation and the Increased Risk of Complications and Mortality Following Respiratory Tract Infections in Adults With Down Syndrome. Illouz T, Biragyn A, Florencia Iulita M, Flores-Aguilar L, Dierssen M, De Toma I, Antonarakis S.E, Yu E, Herault Y, Potier M.C, Botté A, Roper R, Sredni B, London J, Mobley W, Strydom A and Okun E. on behalf of T21RS COVID-19 Initiative. Front. Immunol., 25 June 2021.

 

Therapeutic B-cell depletion reverses progression of Alzheimer's disease. Kim K, Wang X, Ragonnaud E, Bodogai M, Illouz T, DeLuca M, McDevitt R.A, Gusev F, Okun E, Rogaev E and Biragyn A. Nat Commun. 2021 Apr 12. [IF# 17.69 ; ranked 6 of 74 journals in MULTIDISCIPLINARY SCIENCES, A]

 

 Adult Hippocampal Neurogenesis: One Lactate to Rule Them All. Nicola R and Okun E.

NeuroMolecular Medicine. 19 April 2021.

 

 Specific Susceptibility to COVID-19 in Adults with Down Syndrome. Illouz T, Biragyn A, Frenkel-Morgenstern M, Weissberg O, Gorohovski A, Merzon E, Green I, Iulita F, Flores-Aguilar L, Dierssen Sotos M, De Toma H, Lifshitz H, Antonarakis S.E, Yu E, Herault Y, Potier M.C, Botté A, Roper R, Sredni B, Sarid R, London J, Mobley W, Strydom A and Okun E. NeuroMolecular Medicine.

4 March 2021

 

Maternal antibodies facilitate Amyloid-β clearance by activating Fc-receptor-Syk-mediated phagocytosis. Illouz T, Nicola R, Ben-Shuhan L, Madar R, Biragyn R and Okun E. Communications Biology. 12 March 2021.

 

 High Intensity Functional Training: Molecular Mechanisms and Benefits. B. Zeev T and Okun E. NeuroMolecular Medicine. 01 January 2021.

 

 Mild physical activity does not improve spatial learning in a virtual environment. Okun E, B. Zeev T, Weiss I, Ashri S, Heled Y, Ketko I and Yanovich R. Front. Behav. Neurosci. 17 NOV 2020.

 Designed proteinoid polymers and nanoparticles encapsulating risperidone for enhanced antipsychotic activity. L Lugasi, I Grinberg, S Rudnick-Glick, E Okun, H Einat, S Margel. J Nanobiotechnology. 2020 Oct 21;18(1):149.

 

 A Tellurium-Based Small Immunomodulatory Molecule Ameliorates Depression-Like Behavior in Two Distinct Rat Models. Moshe H, Roman R, Okun E, Barnea-Ygael N, Zangen A, Sredni B. Neuromolecular Med. 2020 Sep;22(3):437-446.

 

 The effects of High-Intensity Functional Training (HIFT) on spatial learning, visual pattern separation and attention span in adolescents. Okun E, Ben-Zeev T, Hirsh T, Weiss I and Gornstein M. Front. Behav. Neurosci. 21 August 2020.

 

Food and Age: It Takes Two to Degenerate. Nicola R and Okun E. Front. Aging Neurosci., 26 June 2020.

 

 A modified Barnes maze for an accurate assessment of spatial learning in mice. Illouz T, Madar R and Okun E. J Neurosci Methods. Jan 2020.

 

L-Lactate Promotes Adult Hippocampal Neurogenesis. Lev-Vachnish Y, Cadury S, Rotter-Maskowitz A, Feldman N, Roichman A, Illouz T, Varvak A, Nicola R, Madar R, Okun E. Front Neurosci. 2019;13:403. 2019 May 24.

 

 Restoring microglial and astroglial homeostasis using DNA immunization in a Down Syndrome mouse model. Illouz T, Madar R, Biragyn A and Okun E. Brain, Behaviour and Immunity, 75, 163-180, Jan 2019.

 

 Extracellular DAMPs in Plants and Mammals: Immunity, Tissue Damage and Repair. De Lorenzo G, Ferrari S, Cervone F, Okun E. Trends Immunol. 2018 Oct 4. pii: S1471-4906(18)30171-6.

 

 The Toll Pathway in the Central Nervous System of Flies and Mammals. Shmueli A, Shalit T, Okun E, Shohat-Ophir G. Neuromolecular Med. 2018 Oct 1. doi: 10.1007/s12017-018-8515-9.

 

 Dopamine receptors in the rat entopeduncular nucleus. Lavian H, Loewenstern Y, Madar R, Almog M, Bar-Gad I, Okun E, Korngreen A. Brain Struct Funct. 2018 Mar 22.

 

 Deficiency of Toll-like receptors 2, 3 or 4 extends life expectancy in Huntington's disease mice. Griffioen K, Mattson MP, Okun E. Heliyon. 2018 Jan 18;4(1):e00508.

 

 A protocol for quantitative analysis of murine and human amyloid-β1-40 and 1-42. Illouz T, Madar R, Griffioen K, Okun E. J Neurosci Methods. 2017 Nov 1;291:28-35.

 

 Dopaminergic modulation of synaptic integration and firing patterns in the rat entopenduncular nucleus. Lavian H, Almog M, Madar R, Loewenstern Y, Bar-Gad I, Okun E, Korngreen A. J Neurosci. 2017 Jun 26. pii: 0639-17.

 

 Sirt6 alters adult hippocampal neurogenesis. Okun E, Marton D, Cohen D, Griffioen K, Kanfi Y, Illouz T, Madar R, Cohen HY. PLoS One. 2017 Jun 23;12(6):e0179681.

 

 The effect of nanoparticle size on the ability to cross the blood-brain barrier: an in vivo study. Betzer O, Shilo M, Opochinsky R, Barnoy E, Motiei M, Okun E, Yadid G, Popovtzer R. Nanomedicine (Lond). 2017 Jul 31;12(13):1533-1546.

 

Toll-like receptor 3 deficiency decreases epileptogenesis in pilocarpine model of SE-induced epilepsy in mice. Gross A, Benninger F, Madar R, Illouz T, Griffioen K, Steiner I, Offen D and Okun E. Epilepsia. 2017 Feb 6.

 
Last Updated Date : 09/07/2023