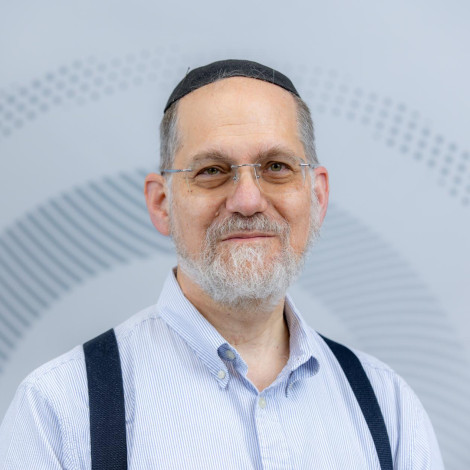 Prof. Ron Goldstein
Email
Ron.Goldstein@biu.ac.il
Office
Gonda Building 204, 1st floor, Room 101
Reception Hours
by email appointment
CV

CV

Education

1974-1978, BA, Biology, Columbia College (NY)

1978-1981, MA, Neurobiology, Columbia University

1981-1984, PhD, Neurobiology and Behavior, Columbia University

Thesis adviser: James H. Schwartz

1983-1984, Lady Davis Postdoctoral fellow

Neurobiology& Behavio, Dept. of Zoology, Hebrew University

1984-1991, Postdoctoral Fellow

Developmental Neurobiology, Depts. of Anatomy and Embryology/Zoology Hebrew University

Academic Positions

1991-2003, SENIOR LECTURER

Dept. Life Sciences, Bar-Ilan University

2003-2011, ASSOCIATE PROFESSOR

The Mina and Everard Goodman Faculty of Life Sciences, Bar-Ilan University

2011-present PROFESSOR

The Mina and Everard Goodman Faculty of Life Sciences, Bar-Ilan University

Research Group

 

Marina Filatov Safrigin, MSc. Student

Linoy Golani-Zaidie, PhD Student

Dr. Punam Bisht, post-doctoral fellow

Dr. Biswajit Das, post-doctoral fellow

Dr.Tatiana Borodianskiy Shteinberg, Lab manager

 

Current Funding

IsraelScience Foundation              2016-2020

National Institutes of Health            2015-2020

(with P. Kinchington, Univ. Pittsburgh)

US-Israel Binational Foundation  2018-2022

 
Research

Research

Neurons derived from human embryonic stem cells (hESC) for studying pathogenic viruses

The differentiation of human embryonic stem cells into neural derivatives and applications in biomedicine has been the central focus of our research since 2001.

Our lab was the first to generate primary sensory (DRG-like) neurons and their precursors, neural crest cells, from hESC (Pomp et al Stem Cells, 2005, international patents pending and awarded). Since then, we have steadily improved the yield of this neuronal phenotype in our cultures (Brokhman et al, 2008, Pomp et al, 2008). The efficient generation of human neurons now allows us to use them in two biomedical applications.

The primary research focus in the lab is now using human neurons to study infection by pathogenic neurotropic viruses, i.e. varicella zoster ("chicken pox/shingles"). This project is a close collaboration with Prof. Paul Kinchington from the the Universityof Pittsburgh Medical School.
Courses

Courses

80-414 BIOTECHNOLOGY SEMINAR

80-545  BIOTECHNOLOGICAL USES OF STEM CELLS

80-849 IMAGE PROCESSING FOR BIOLOGISTS

              INTRODUCTION TO BIOLOGY B (English for Post-bac Premed program)

80-902 GRADUATE SEMINAR (A)

 
Last Updated Date : 02/05/2023